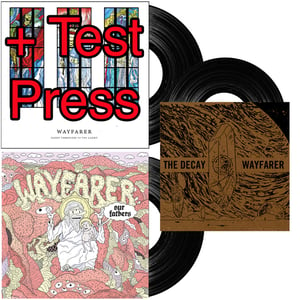 $

30.00 - On Sale
Get 'Sleep Through to the Light,' the 'Decayfarer' split and 'Our Fathers' on vinyl for a discounted price!
Add a second variant of 'Sleep Through to the Light' or even a test press (only 6 for sale!) for even more savings.
Translucent teal vinyl /100 to go to first orders (25 from this store, 20 from Housebreaker Records, 40 for record release shows)
Black vinyl /400
Test press /20 (Only 6 for sale)
These are pre-orders. Any orders containing Wayfarer LPs will go out together. We're currently anticipating the LPs in September.
Listen to the first song here:
1. The Captive Mind
2. Beta, The Disappointed Lover
3. Irreversible
4. Worn Out
5. Translating
6. Old Saints
7. Alpha, The Moralist
8. Artificer
9. Part I: Lithuania
10. Part II: Ewa
11. Part III: Andrej
Ps if you're in Toronto or surrounding area and are able to meet up, we can do that to save you shipping. Also, if the shipping prices for Canada are far over what we pay, you'll get a refund for some of it.